TSF Projects
Since our founding in 2004, TSF's major projects have included funding a science and technology high school in Golok, Tibet, and a water system for a community of retired Tibetan nomads. Additionally, we have provided grants in support of two educational initiatives in India undertaken by the Tibetan community in exile.
In 2020, a huge earthquake struck the remote Kyigudo area of Tibet resulting in thousands of deaths and extensive damage. You can learn more about Kyigudo and our support for its recovery in this article. When Typhoon Haiyan, one of the strongest storms in recorded history, brought devastation to regions of Southeast Asia in November, 2013, TSF contributed in support of people in the particularly hard-hit Philippines.
We have also funded relief activities in Nepal after the deadly earthquake of April 2015.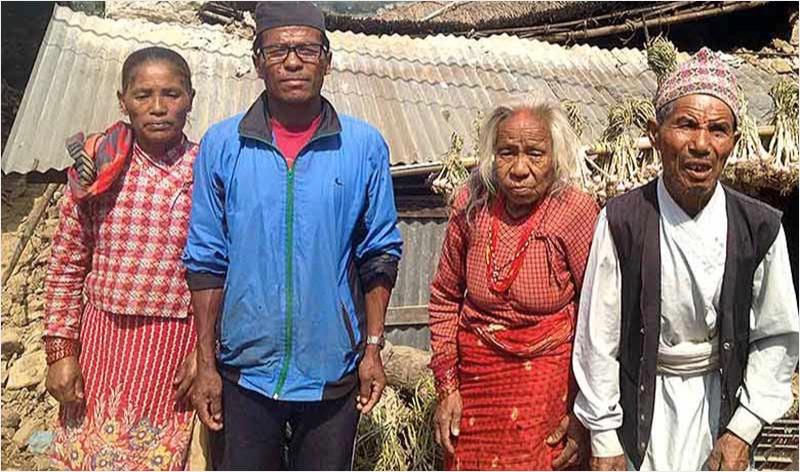 Earthquake survivors in a rural area on the southern edge of the Kathmandu Valley
Earthquake Relief: Nepal, 2015
In order to most quickly and efficiently provide aid to devastated communities after the huge earthquake in April, we partnered with a small, grassroots NGO - Earthgarden Nepal - an organization based in the area with an extensive network already in place among local communities. While the situation was being assessed and the most urgent needs of survivors identified, our contributions began flowing into Kathmandu by wire. Local representatives used those funds to purchase basic shelter supplies like tin roofing material and tarps, and other necessities like food and medical supplies. Trucks then transported the aid to rural areas, often a journey of several hours over difficult and dangerous roads.
See photos and read more about recovery efforts HERE.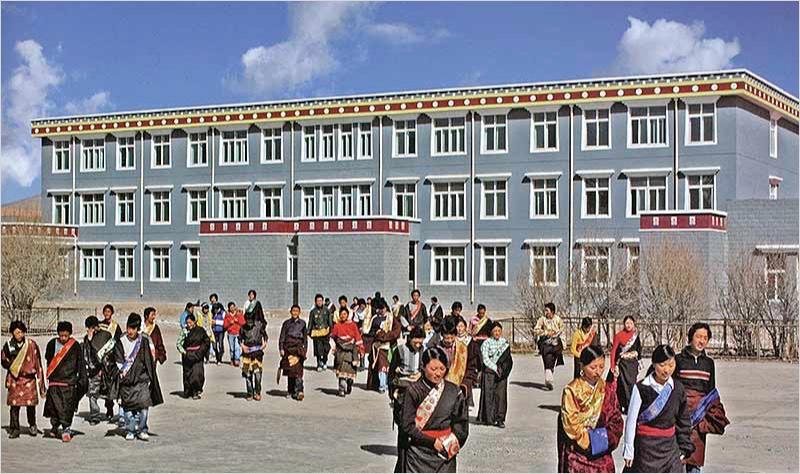 Students leaving Kunsel Kyetsal after a day of classes during its first year of operation
Kunsel Kyetsal High School
A request forwarded to Ven. Sogan Rinpoche by community leaders from his homeland in Golok in eastern Tibet led to the founding of The Sogan Foundation in California in 2004 and just three years later to the inauguration of TSF's initial project, Kunsel Kyetsal, the first high school focused on science and technology for the native Tibetan speaking young people of the region. Finally, Tibetan teenagers had the opportunity to study a 21st century curriculum within the context of their own culture and in classes taught in their native language.
Learn more about the story of Kunsel Kyetsal and the nomadic Tibetan community it serves by clicking HERE.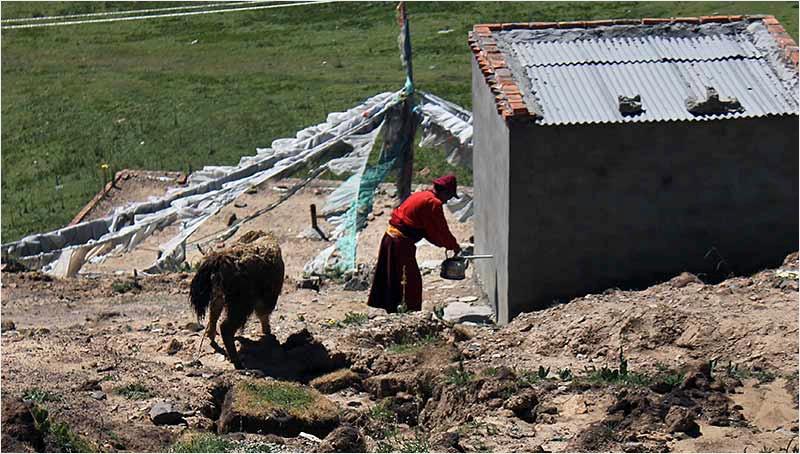 Filling a kettle at the pump house which is part of the water system donated to the Bayan senior community by TSF
Bayan Senior Water Project
Not far from Kunsel Kyetsal on the Tibetan high plateau in Golok, a small but growing community of retired nomads is located on the grounds of Bayan Monastery. Nomadic life in this part of the world is very difficult, and for centuries it has been a tradition for aging nomads to settle near monasteries in small permanent dwellings where neighboring monks can check on their well-being. Although the natural springs of Mt. Bayan are renowned for the purity of their water, they are not easily accessible. Thus The Sogan Foundation provided funds for a simple gravity flow system with a pump house and tap located near the elderly residents' homes.
Find out more about the Bayan Senior Community and the new water system HERE.
© Copyright Sogan Foundation