Kunsel Kyetsal, 2007, from left: Phuntsok, chief school administrator, Ven. Sogan Rinpoche, TSF chairman, Kunsel Kyetsal project manager
Kunsel Kyetsal, a Science and Technology Secondary School Facility
Kunsel Kyetsal was our first project - undertaken in response to a direct request from local community leaders in support of Tibetan youth living in a remote region of Eastern Tibet.
In the fall of 2007, the doors of Kunsel Kyetsal opened on the campus of the only Tibetan high school in Golok, a remote region of western Tibet which covers about 75,000 square kilometers, an area roughly the size of Austria. The new three-story building provides learning tools vital to providing a top quality 21st century high school education: science laboratories (physics, chemistry, and biology), computers and language labs (two: English and Chinese) as well as the school's first libraries (one for Tibetan language books and another for Chinese).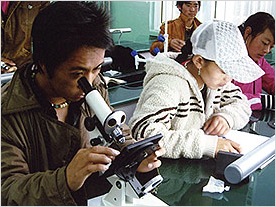 This project was conceived by regional educators to address a critical concern within the Tibetan community: inadequate educational opportunities for Tibetans and the resulting limited employment opportunities available for young adults. Government policies are focused on settling the region's traditionally nomadic population and bringing development to this grassland region. With their ancestral way of life in decline, the survival of Golok's communities rest in their ability to find alternative livelihoods for future generations.
A good education is essential for Golok's youth to succeed as adults. And as they fare, so fares Golok. Our greatest hope is that with Kunsel Kyetsal's resources, more Tibetan students will have the necessary preparation to pass their university entrance exams, obtain skilled employment, and focus their attention, energy and training within their own communities. Their success will determine the ability of Golok and its culture to weather the profound changes now underway, and, we hope, to thrive again.
Sogan Rinpoche Visits Kunsel Kyetsal as It Starts Its Sixth Year of Classes
During the fall of 2012, Sogan Rinpoche spent three weeks in Tibet. While in Golok, he visited Kunsel Kyetsal and inspected its building and facilities and met with students, faculty, and staff.
In the interview posted at right, TSF's founder and chairman speaks with Sonam Kyi, one of the school' six English teachers and who, like Rinpoche, was born in Golok.
Students Attending Class at Kunsel Kyetsal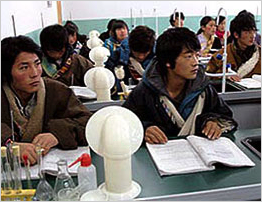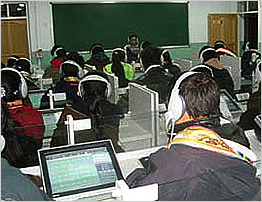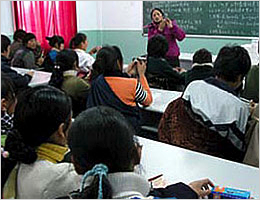 A Note on the Project Name
The provisional name of this project was the Tibetan Institute for Science and Technology (TIST). At the building's inauguration in July 2007, it was given its official Tibetan name: bod yig mtho rim slob bring kun gsal skyed tshal khan, a beautiful title translating to Pleasure Garden of Full Knowledge Golok Tibetan High School.
We now refer to the new facility as Kunsel Kyetsal, a shortened and anglicized versions of the Tibetan.
A Festive Inauguration in Golok, 2007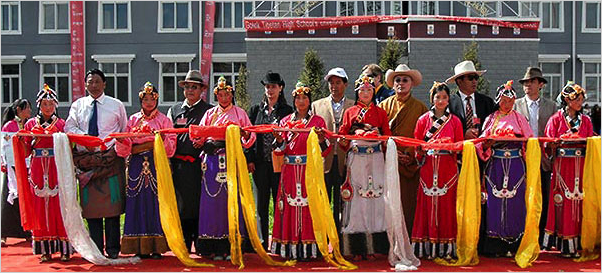 Inaugural Celebration Photo Galleries
Completion of the new high school was celebrated in July of 2007 in Golok. Events were held over several days as the community rejoiced wholeheartedly and young people eagerly anticipated learning about computers, the sciences and current technology - areas of study that had never been available to them before. Sogan Rinpoche, members of the TSF board and project supporters made the long journey to Tibet to participate in the festivities.
We have posted some images from those days in Golok:
More Photos of the Kunsel Kyetsal Project
Ground was broken on a carefully chosen, auspicious day: September 1, 2005. In this gallery, you can follow the progress of construction, from groundbreaking ceremonies in the impressive three-story structure that stands today.
The school' staff and administrators have provided TSF with periodic updates of its progress in the years since it first opened. Hundreds of students have graduated with over half moving on to university, while many of the others attend specialized or technical training schools or start small businesses. You can explore this gallery:
© Copyright Sogan Foundation