Venerable Sogan Rinpoche, Founder and President
Ven. Sogan Rinpoche (Tulku Pema Lodoe) was born in 1964 in the Golok region of Amdo, Tibet. As a child, he was recognized by H.H. the XIVth Dalai Lama as the Sixth Sogan Rinpoche and was enthroned at Awo Sera Monastery (in Tibet's Serta region) which he founded in his First Sogan Rinpoche incarnation. He is also the head of Bayan (Wayan) Monastery, located in Golok.
Rinpoche has studied with many great masters of all four traditions of Tibetan Buddhism. His principal teacher was Khenpo Munsel, who was one of the great Dzogchen masters of the 20th century and a chief disciple of Khenpo Ngag Chung. After many years of study, pilgrimage, and solitary retreat, Rinpoche left Tibet to continue his studies in Nepal. He studied extensively with many prominent teachers and spent several years there in retreat.
Sogan Rinpoche is the spiritual director of Tupten Osel Choling, a dharma group in the San Francisco Bay area and also of Tupten Osel Ling, a group founded by Rinpoche's students in Northern Italy in 2012.
Rinpoche established The Sogan Foundation for the immediate purpose of building a much needed high school in Golok, and with the intent that continuing far into the future, the organization will serve as a vehicle for alleviating the suffering of the poor and marginalized.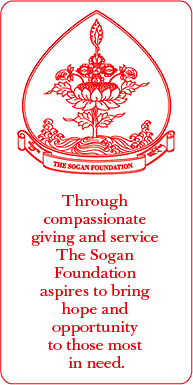 The Sogan Foundation
The Sogan Foundation is a nonprofit charitable organization. Through compassionate giving and service, the Foundation aspires to bring hope and opportunity to disadvantage communities around the world. Its projects are concerned with addressing the roots of poverty and the harms that so often attend it, including poor health, lack of education, degradation of the natural environment, and a community sense of isolation and disempowerment.
Founded in 2004 as a California nonprofit public benefit corporation, The Sogan Foundation is a secular entity with goals inspired by the teachings of Shakyamuni Buddha. The Foundation has been granted 501(c)(3) tax-exempt status by the IRS. All contributions are welcome and tax deductible.
Donate Online
Make a tax deductible contribution online now - or find out how to send us a check and become part of our community of people seeking to make a difference in the lives of suffering beings around the world.
Contact Us
If you have any questions about The Sogan Foundation, please email us.
Photo Galleries
View the photo galleries including a series about our premier project, the Kunsel Kyetsal science and technical facility as well as the Bayan Water Project and the region of Golok in Tibet.
Dharma Website
For more information about Ven. Sogan Rinpoche's dharma activities, visit the website of his California spiritual group, Tupten Osel Choling.
TSF Board Members
Board of Directors-2022
Venerable Sogan Rinpoche, Pema Lodoe - Founder and President, Carson City, NV.
Laura Batie, - Vice-President, San Francisco, CA
Gabriel Alexander- Treasurer, Director, Concord, CA
Teresa Harrigan - Secretary, Director, South Lake Tahoe, CA
Chanda Rankin, Ph.D. - Director, Petaluma, CA
Greg Case - Director, South Lake Tahoe, CA
Ming Jay Su - Director, Vancouver, BC
Ricardo R. Beato - Director, Vacaville, CA
© Copyright Sogan Foundation