2015 Earthquake Recovery - Nepal
The destruction resulting from the earthquake in April, 2015 and subsequent aftershocks was enormous. Survivors had to deal with the heartbreak of the sudden deaths of family and friends, as well as the loss of their homes and possessions, and scarcity of food, clean water, and medical care.
COMPLETED: A community hall and earthquake shelter for Pharping Village!
Thanks to the generosity of many donors and the hard work of local construction crews, the Community Hall in Pharping has now been completed! Below are some photos of the finished building.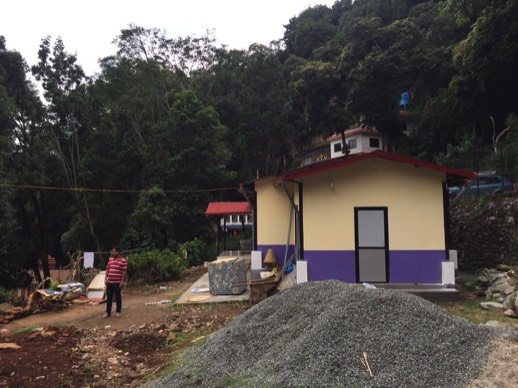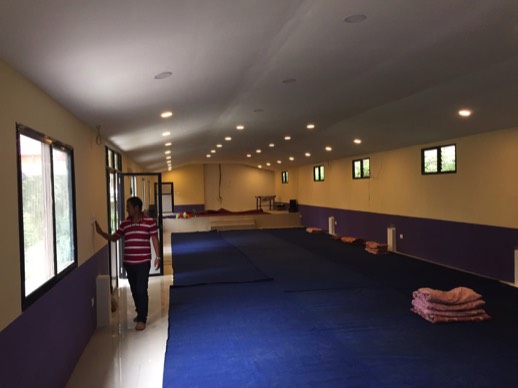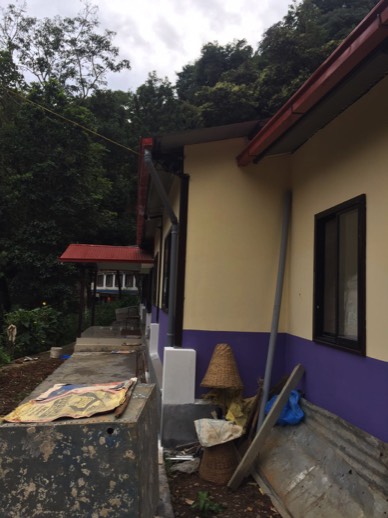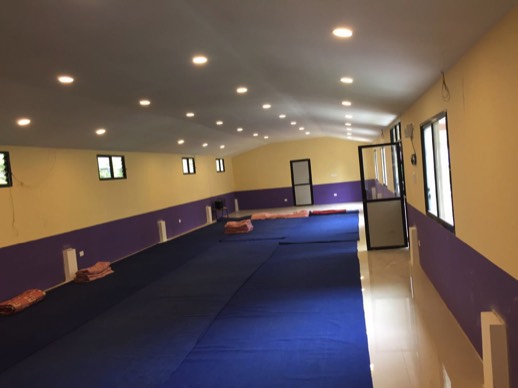 Phase Two Quake Relief: A Community Hall and Earthquake Shelter for Pharping Village
Although Nepal's resilience lies in its strong social networks, meeting and organizing venues - buildings intended to accommodate groups of people - are almost non-existent in most of the country. In order to bolster community engagement and cohesiveness. Earthgarden Nepal proposed the construction of a one-story building with a large central meeting hall and adjacent office area to serve the 40,000 villagers of Pharping.
This town hall functions as a shared space for community programs and during times of emergency, it provides shelter and serve as a headquarters for disaster services.
The local Pharping government has donated a large parcel of vacant land for the purpose of constructing the earthquake shelter and community hall. The future building site is adjacent to the Pharping Senior Citizen Nursing Care Home, a unique home for Nepali elders who have no other support system. This kind of facility is rare in a country where most seniors are cared for in their homes by family members.
Below are photos taken since the quake.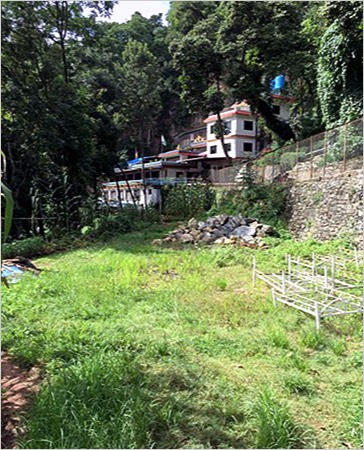 Site of the proposed community hall and earthquake shelter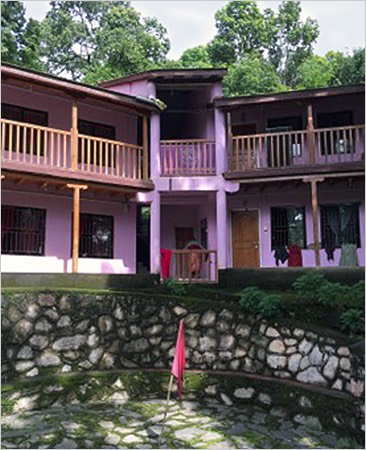 The Pharping Senior Citizen Nursing Care Home -next to the building site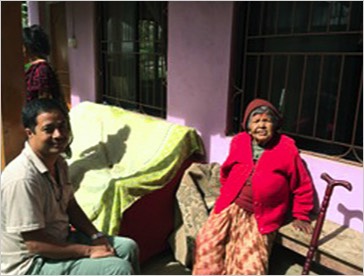 A nursing home resident with one of the staff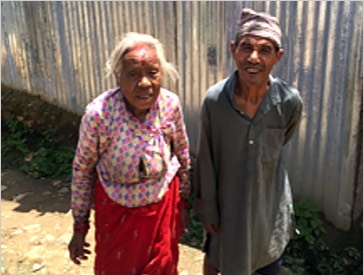 Quake survivors stand near a temporary tin shelter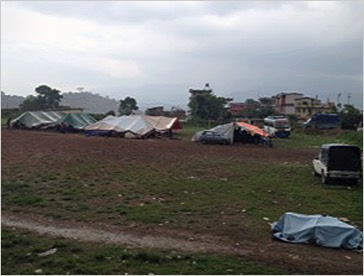 Tarp Shelters in a field sprung up soon after the earthquake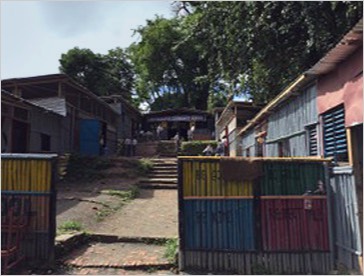 The next stage of temporary shelter: tin structures for the rainy season
Phase One Quake Relief: Emergency Shelter and Food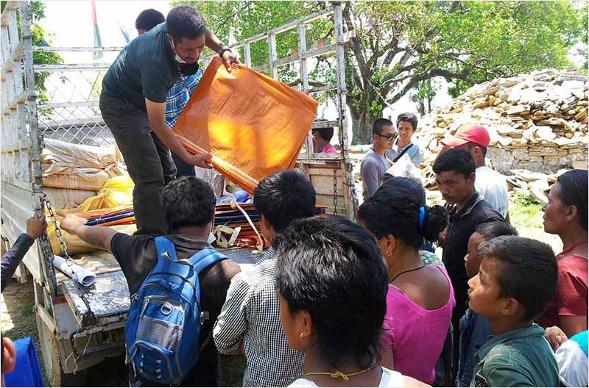 Tarps for shelter are delivered to a very hard-hit community located about six hours drive north of Kathmandu. Materials for creating emergency shelters were among the most crucial supplies for the first phase of recovery. In many rural areas the majority of dwellings were completely destroyed.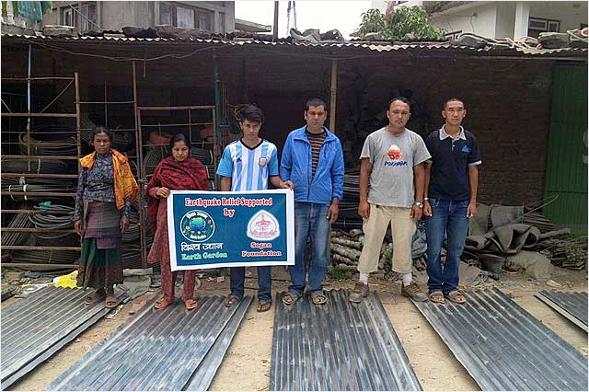 Residents hold a banner displaying the logos of The Sogan Foundation and Earthgarden Nepal, two organizations which are helping them recover and rebuild. The tin roofing material seen above will be used in the construction of new homes.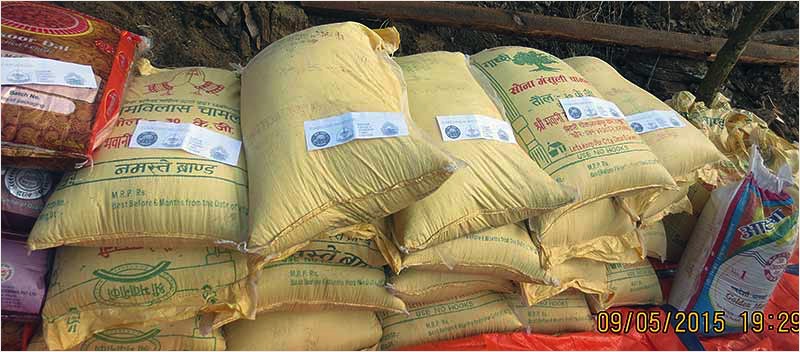 TSF donations helped to feed the survivors in several villages by funding deliveries of regional staples like rice and lentils. We supplied the essentials: food, shelter materials, medicine, and medical attention to people living in remote locations.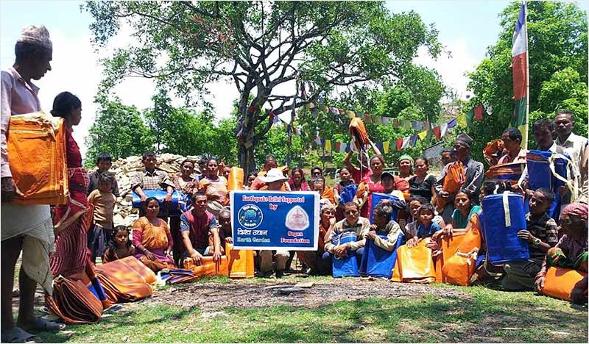 This community was in great need of the relief supplies and services being provided to them by TSF and Earthgarden Nepal. The people in this photo lived in a small village north of Kathmandu. It was ravaged by the earthquake and many residents died. A large number of those gathered here were grieving the loss of close family members.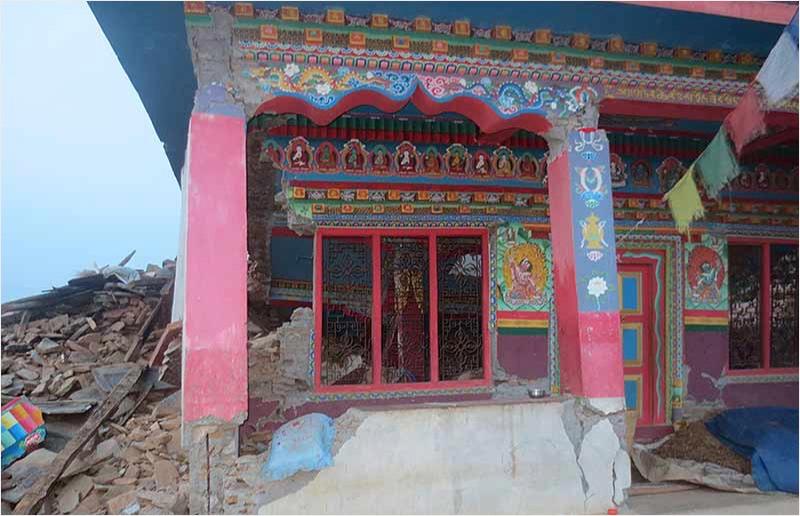 A small, severely damaged monastery north of Kathmandu
Chatral Rinpoche once blessed this monastery ; now it is essentially destroyed. Aid workers helped the community formulate plans for its restoration. The first priority however, was securing adequate shelter, food and medical attention for residents.
© Copyright Sogan Foundation