Aid for Kyigudo Earthquake Victims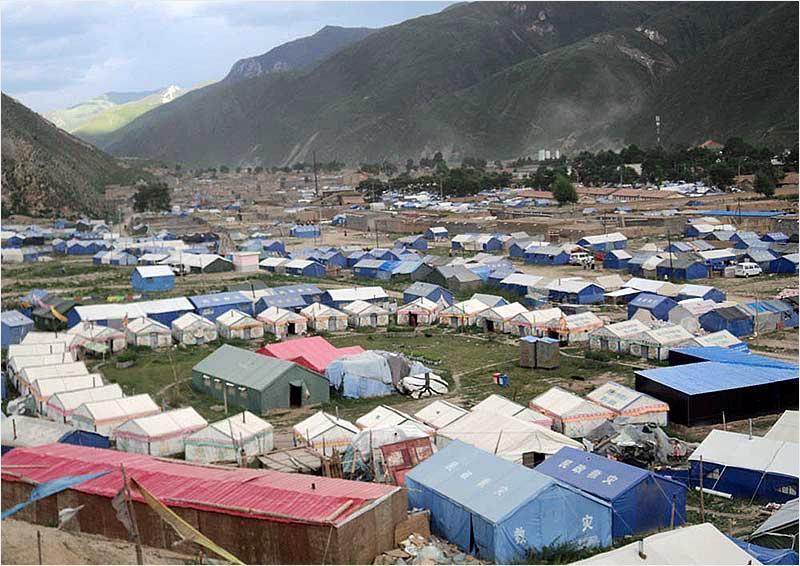 Kyigudo residents left homeless by the 2010 earthquake were resettled in this tent community. Many of the tents are lightweight cotton, which provide inadequate shelter during harsh winters.
On April 14, 2010 after a magnitude 6.9 earthquake, 70 to 90 percent of wood and mud houses and buildings in the sparsely populated villages of Kyigudo (Tibetan) (Yushu in Chinese) County and in Jiegu (the only larger town in the region) collapsed, and many larger structures were heavily damaged or destroyed. Most school buildings were no longer usable. There were nearly 2,700 confirmed deaths, with many hundreds missing and over 12,000 people injured. The area is hard to reach and its high altitude (over 12,000 feet) and extreme weather conditions have complicated rebuilding efforts. For example, the construction season lasts only about five months. As a result, most survivors, 93 percent of whom are ethnic Tibetans, remained housed in emergency shelters (poor quality summer tents as some seen in the photos) long after the quake.

These lightweight summer tents are no match for the intense weather conditions that often affect Kyigudo.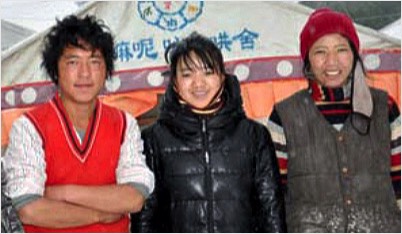 Tibetan young people - crucial to the region's recovery
Picture left are three young residents of Kyigudo who are working to reduce suffering in their shattered community and to move forward with the rebuilding effort.
Like all survivors of the 2010 earthquake in Kyigudo, the youth are burdened with traumatic memories of the disaster and the loss of friends and family. Nonetheless, with the support of their close-knit traditional community and its profound cultural heritage, these young adults - the leaders of tomorrow - are providing energy and inspiration for recovery efforts today.
One group of residents especially hard hit by the quake is the elderly, many of whom are already in their 70s. They have lost old friends and often sons, daughters, and grandchildren too. Not only were their homes and material possessions destroyed in the blink of an eye, but in many cases their network of human support and connection, their community, is also gone. And while old age often brings health problems, especially for Tibetan nomads whose lives are very difficult, injuries sustained in the quake added significantly to that burden.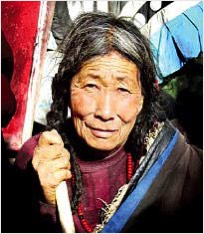 Embracing the most needy - Kyigudo's elderly population

TSF Donates Community Tents
We heard from relief coordinators on the ground in Kyigudo that the light weight canvas tents were a significant problem given the intense wind and cold that are typical of the region's weather. During the winter months, inhabiting such flimsy shelters can literally be life-threatening. Additionally, the relatively small size (144 square feet) of the cotton tents makes them cramped for large families and unusable as community meeting areas. Given this report, we decided to grant funding for the purchase and delivery of two large tents.
A Senior Center for Kyigudo
The large gray tent shown above is one of those donated by The Sogan Foundation. The interior of this "winterized" tent is 484 square feet (45 square meters). It is made from strong canvas fabric and insulated with a cotton-like material. This tent will withstand rainstorms, snow, and strong wind and is durable enough to last a minimum of three years.
Since the elderly in particular suffer from the cold and damp conditions created by inadequate shelter, this tent has been designated as a center for seniors. Here they spend their days among friends, in a warm, nurturing environment. Food is provided and they can rest and pray. Those who require more intensive medical help receive the care they need. With the seniors gathered in one place, volunteers from the community and professional relief workers are better able to look after the physical and mental well being of the aged quake survivors.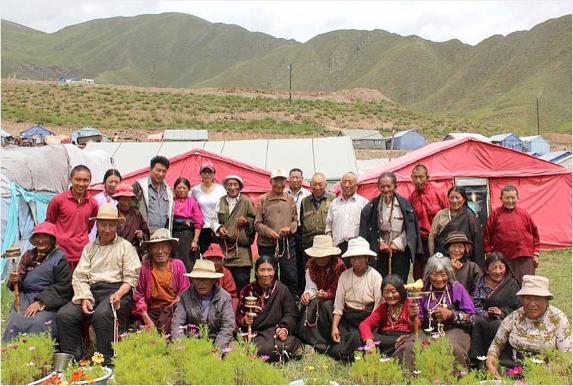 The photo above, taken in the summer of 2011, shows a group of elderly Tibetans in Kyigudo with some of the aid workers who assisted them.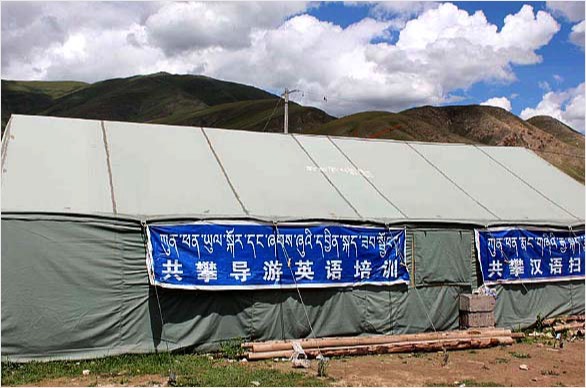 With helping others as his main motivation, Kunchok obtained a loan to furnish the tent with desks, chairs, and teaching materials.
Language Training for a Recovering Community
While committed to meeting the need of the senior population, the Kyigudo survivor community is also working to provide services and opportunities for other members of their society. Accordingly, the second tent (pictured left) donated by The Sogan Foundation is now home to a program called The Language Center, which was initiated by Kunchok Sherab who is originally from Nangchen and studied in India for 15 years.
In 2005, he returned to Jiegu where he co-founded and co-managed a public library (known as Norling Library) with his brother until the Kyigudo earthquake. The library was badly damaged and needed to be demolished. Since reconstruction was expected to take at least three years, Kunchok decided to start a language training program in Jiegu as soon as possible, because similar programs there had been wiped out by the earthquake.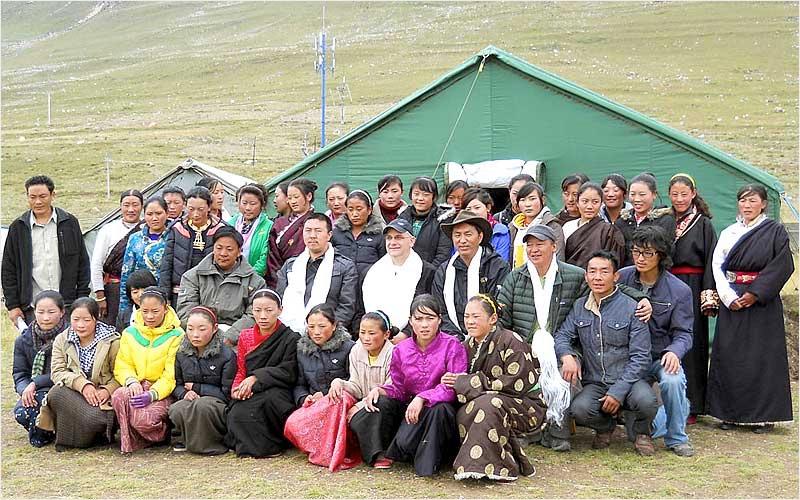 Participants and organizers of a midwifery course are shown in the photo above. They gathered in Kyigudo in front of The Language Center tent during the summer of 2011.
Maternal and infant mortality rates in this region are among the highest in the world. One way global aid organizations are trying to remedy this serious problem is by providing midwife training programs in communities like Kyigudo. Local women learn safe birth procedures and are given the basic supplies needed to improve outcomes for both mother and child.
© Copyright Sogan Foundation